DA-ART Aquila II is our latest premium All-in-One DAC/Amp/Prefor Personal Audio application. It incurred numerous technologies from our Reference product DA10 including the high precision low noise JIC (Jitter andInterface Control) System, our proprietary FPGA solution to enhance audio performance by optimized data integrity, de-jitter and minimized digitalartifact before the digital audio signal transmits to the DAC chip.
The Aquila II measures exceptional well, and it also sound sincredibly resolving and realistic. It is designed around the ESS flagship ES9038Pro 32-bit DAC chipset offering768kHz and DSD512 decoding capability. It takes advantage of the new ESS design and facilitates a dual digital processing circuit offering two distinctive synchronous modes. The analog audio circuit has incorporated a high precision analogue volume control to make sure the pre-amplifier and headphone amplifier output preserve every bit of resolution and dynamic even at low volume level.
Thekey features are:
● Proprietary high precision low tolerance YULONG JIC (Jitter and Interface Control) System:
o Optimize data integrity and enhance digital signal quality.
o De-jitter and minimize digital artifact.
● Outstanding digital audio capability:
o Design around ES9038Pro DAC chipset with industry-leading 32Bit/768kHz and DSD512 decoding
o Widely recognized XMOS XU208 solution with customized (with license) Thesycon driver to enhance
soundquality and stability.
o All inputs interfaces support DoP64 and DoP128, USB input interfacesupports Native DSD64/
128/256/512 additionally.
o Choices of 3 digital filters to fine tune your system for different music genres and personal preference.
● Custom developeddual digital processing circuit offers unique digital audio options:
o Synchronous mode: sounds more engaging and musical with an analogue presentation.
o Asynchronous mode: excels on clarity andlow-level detail.
● State-of-the-artanalogue implementation:
o 99 steps digitally controlled an alogue volume for Preamp and headphone output.
o DC coupled Class AB amplification, deliversupto 4000mW per channel at 32ohm.
o Outstanding headphone performance specially optimized for low impedance headphones, ensure low distortion and
outstanding handling capability even at 160hm loading.
● All-in-one designwith comprehensive connectivity:
o Fully balanced design, low impedance DAC line output, high current preamp and headphone amplification.
o USB Audio supports MS Windows, macOS, Linux.
o Special attention to enhance support to Android and iOS mobile and tablet devices.
● Multi-stage independently regulated power supply from two toroidal transformers with low noise regulators.
● Intuitive control through single high precision probably-damped volume knob.
● Seamless, compactand sleek aluminum chassis with large IPS wide angle display, supported byunique suspension feet.
2.Technologies
From technologies point of view, Aquila II is a significant advancement from the original Aquila, we have revamped the complete digital audio design and enhanced performance on both DDC and DAC.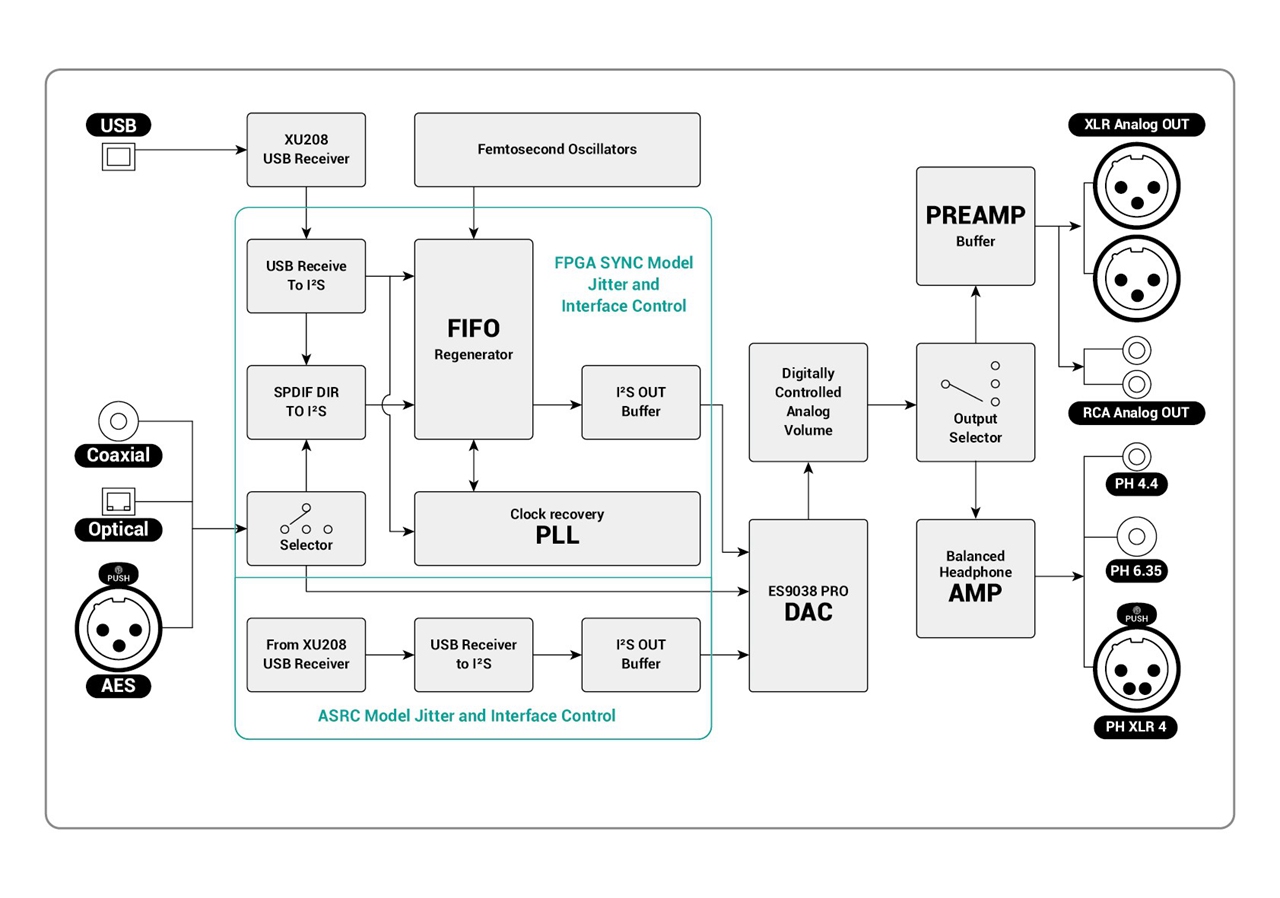 2.1 JIC (Jitter and Interface Control) System
This is our digital audio technology that converts the input audio signals into low-jitter I Sbit-stream, apply FIFO input buffering while synchronize with the built-inFemtosecond Oscilators. The system willthen pulled in and locked the signal by a dual PLL. Our FPGA will distribute and synchronize the signal and then output high quality low-jitter I2S bit-stream through FIFO.
2.2 Dual ESS Digital Processing Circuit
This will allow user to switch between two different synchronous modes through on-screen menu:
Synchronous mode: this is a fully FPGA based digital processing. We have bypassed the ASRC circuit within the ES9038Pro DAC and execute dynamic frequency distribution in different sampling frequency range. All processing are conducted at original sampling frequency and will enhance musicality with excellent analogue presentation.
Asynchronous SRCmode: input signal will be optimized by FPGA and then process by the ESS internal digital processing circuit. The built-in ASRC function will up-sample the signal to a higher sampling frequency and will enhance clarity with refined details.
2.3 Optimized for MAS (Mobile Audio Source)
Aquila II incorporates XMOS XU208 in its USB Audio design and takes advantage of our FPGA based JIC technologies. In this implementation, we have paid special attention to optimize the compatibility and stability with iOS devices such as iPad Pro and iPhone, we see MAS (MobileAudio Source) as inevitable norm and shall continue to develop necessary support for Android and iOS device as audio source of our DAC/Amp.
5. Technical Specification
USB Audio

PCM: upto 32Bit/768kHz

DSD: DoP64, DoP128, Native DSD64/128/256/512

Synchronous Mode

(Coaxial, AES, Optical)

PCM: upto 24Bit/384kHz

DSD: DoP64 and DoP128

Asynchronous Mode

(Coaxial, AES, Optical)

PCM: upto 24Bit/192kHz

DSD: DoP64

Power Rating (Headphone)

(Measured at THD+N< 0.001%)

Single-ended (6.35mm)

32Ω

64Ω

150Ω

300Ω

600Ω

1600mW

870mW

370mW

180mW

90mW

Balanced (XLR4 and 4.4mm)

32Ω

64Ω

150Ω

300Ω

600Ω

4000mW

3000mW

1500mW

750mW

375mW

Frequency Response

20-30KHz (±0.15dB)

THD+N

0.00025%. (1kHz, 20Hz-20kHz, A-Weighted)

Dynamic Range:

125dB (20Hz-20kHz, A-Weighted)

SNR

-130dB (20Hz-20kHz, A-Weighted)

Crosstalk

< -120dB

Output Impedance

~2Ω (XLR4, 4.4mm and 6.35mm)

Output Level (Line Out)

Single-ended (RCA) 2.1V

Balanced (XLR) 4.2V

Power consumption

<30W

Dimension

248*210*60mm (LxDxH)

Weight

4Kg